Luxurious Suites
Junior Suites with Sea View
Luxurious Junior Suites for up to 3 people
With sea view
The junior suites at Nissaki Beach Hotel in Naxos are spacious and their open plan layout features a bedroom and a nice comfortable couch and stylish armchairs. The beautiful wooden ceilings with the hidden lightings, the exceptional views to the Aegean Sea and the furnished verandas make Junior Suites the perfect choice for an elegant and calming stay. They can accommodate up to 3 guests and also feature fine bathrooms with exquisite tiled floors, bathtub or shower.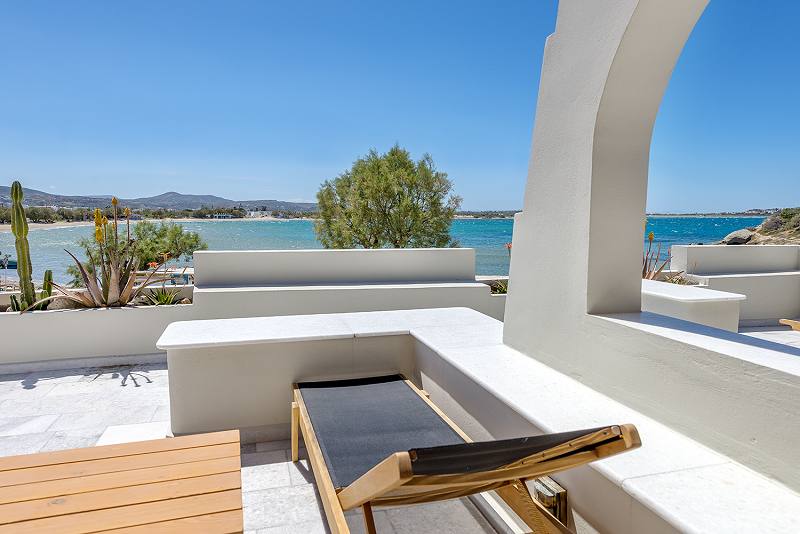 Junior Suite amenities include
24-28 sq.m.
Air-conditioning
Wired internet access (VDSL)
Wireless internet access (Wi-Fi VDSL)
Satellite TV (LCD)
DVD Player
King or Queen size beds
Coco-mat sleep system
Bathrobe / sleepers
Direct dial up
Telephone in the bathroom
Fridge
Kettle
Coffee and tea
Iron & iron board
Safe deposit box
Luxurious bathrooms
Breakfast in the room
Hair dryer
Bathrobe & sleepers
Toiletries
Laptop on request
Balcony or veranda
Sea view
24-hour room service
Always book direct with us and get most of your booking
Room Types
Standard double rooms, Superior double rooms, Junior sea view suites, Pool view suites, Sea view suites, One bedroom suites are available. Please click on images below to find out which one suits your needs.